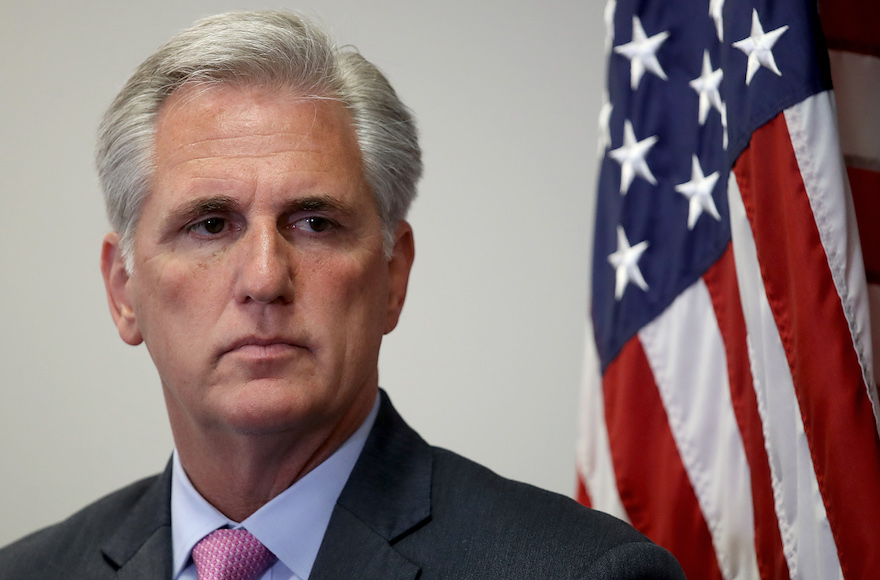 Rep. Kevin McCarthy is shown in Washington, D.C., July 24, 2018. The California Republican echoed his party's attack on George Soros. (Win McNamee/Getty Images)
(JTA) — House Majority Leader Kevin McCarthy accused George Soros, Tom Steyer and Michael Bloomberg of trying to "buy" the upcoming elections for Democrats.
The Republican congressman from California tweeted a video of himself making the comments on Tuesday and temporarily pinned it to the top of his feed before deleting the Twitter post entirely.
All three men McCarthy mentioned are billionaires who donate heavily to liberal causes. Many Twitter users objected that McCarthy's tweet attacking Soros appeared a day after an explosive device was found at Soros' suburban New York home.
Majority Leader Kevin McCarthy posted this tweet AFTER a bomb was sent to Soros' house. Up until a couple of minutes ago it was pinned to the top of his profile. pic.twitter.com/FEeKoPolHL

— Judd Legum (@JuddLegum) October 24, 2018
"The three individuals who are funding the Democratic Party: one is Soros, one is Tom Steyer — his main goal is trying to impeach President Trump — and then Bloomberg who reregistered as a Democrat," McCarthy said on Oct. 14 on Maria Bartiromo's Fox News show.
The tweet contained audio from that interview and images of the three billionaires.
On Wednesday, two days after the bomb was found at Soros' home, similar devices were sent to the homes of former President Barack Obama and Bill and Hillary Clinton, as well as at the Time Warner Center in New York City. The devices sent to Clinton and Obama were found during screening and did not make it to them, officials said.
"There is a strong suspicion" that the two packages intended for Obama and Clinton are connected to the package sent to Soros, an unnamed law enforcement source told CNN.
McCarthy's California office also was vandalized on Monday. The vandals reportedly threw rocks through the office window and stole some equipment from inside. Senate Minority Leader Chuck Schumer of New York linked the vandalism and the bomb at Soros' house in a Tuesday tweet, condemning "radicals across the the political spectrum." The Democratic senator was criticized, mostly by Democratic supporters who felt the two incidents were not equivalent.
Soros has become a favorite target for activists and politicians on the right for his deep spending on liberal and pro-democracy causes. McCarthy noted that Bloomberg, the former New York City mayor, has donated nearly $100 million to Democrats for this election cycle. Steyer, a hedge fund manager and Democratic megadonor, has been leading calls for President Donald Trump's impeachment.
At the Conservative Political Action Conference in February, then-National Rifle Association head Wayne LaPierre raised eyebrows by accusing Soros, Steyer and Bloomberg of "socialism" and "social engineering." Some accused LaPierre of airing anti-Semitic dog whistles in the speech.
The post House Majority Leader Kevin McCarthy deletes tweet saying George Soros, Tom Steyer and Michael Bloomberg are buying this year's elections appeared first on Jewish Telegraphic Agency.